I have the cutest little baby boy quilt to show you today! It is so easy and fun to make I though some of you might like to whip one up too so I have a quick tutorial made up.
Wonky Stripes is the most unoriginal name but I am at a loss....what would
you
name it?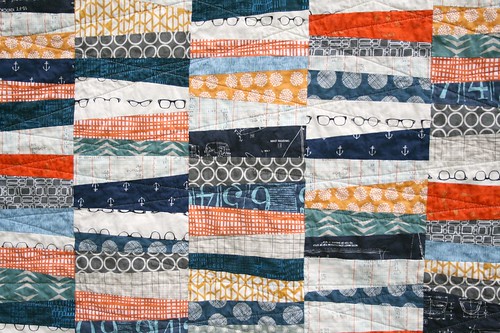 This quilt ended up being 37.5" by 48".
You'll need at least 10 fat quarters.
Cut 40 8"x8" squares from your fabrics.
Stack a variety of 4 squares, making sure that the top and bottom squares are not the same color (because they will be touching each other when you sew them into blocks).
Make 3 cuts at slightly wonky angles so that you have 4 stacks of strips. Make sure to keep the stacks in the order you cut them in.
Next, rearrange the layers so you can sew them together into blocks.
Now sew together the strips in the order you see them from left to right.
One thing to take note of when you're sewing the strips together. Because you are sewing angled pieces, you need to overlap the points where the seam allowance is.
You'll end up with 4 finished blocks that are 8"x6.5".
After all the blocks are pieced, you can arrange them (with the blocks turned horizontal) 5 blocks across and 8 blocks down. Finally, sew the blocks into 5 vertical columns and then sew the columns together. Done!
I'm working on a version of this with girly colors as you can above. I can't wait to see how it turns out!